We understand your education is an important investment, and we strive to make tuition as easy and accessible as possible.
Payment options are also covered on our Tuition Page. You don't have to choose your tuition payment plan before you apply—you'll have a chance to choose your tuition approach when enrolling, and, if applicable, you will receive an invoice shortly after with additional instructions.
Bootcamp Tuition Payment Options
Paying Upfront
Paying your tuition upfront is the most straightforward and lowest-cost option available to you. You simply pay the full amount of your tuition to us before class starts.

Financing your Bootcamp with other lenders - Ascent Funding
Ascent strives to help provide access to education for millions of underserved students every year. Ascent offers a variety of loans and repayment options. Approval and rates will vary depending on credit history.
3rd party loan with Ascent
Interest rate 10.99% to 15.99%, varying by credit score
Choice of interest-only payments in school or full deferral to after school
5% Origination fee
5, 7, or 10-year repayment terms
A minimum credit score of 680 is required for approvals
Financing Your Coding Bootcamp with Climb Credit
Looking to finance your education? Our lending partner, Climb Credit, offers affordable loans for DigitalCrafts' students across all financial backgrounds with 100% Approval*:
The benefits of financing through our lending partners:
Financing your tuition allows you to spread the cost of tuition over a number of years and results in the lowest monthly payment.
Spread tuition payments over 3-5 years
Cover all or a portion of tuition with a loan from Climb Credit
Interest-only period available for full-time students while in school
Apply in minutes with no impact on your credit score
*Borrower must be a U.S.resident and at least 18 years of age. Rates will vary depending on financial standings and credit history.

What if I have bad credit?
Regardless of your financial background, Climb Credit will review your application and work with you to define a repayment plan. It may be beneficial to consider applying with a co-borrower. Rates will vary depending on your financial standing and credit history.
Do I have to use Ascent Funding or Climb Credit?
No, you may use any lender of your choice, so you should feel free to obtain quotes from any lender you choose. There are a number of affordable programs out there, so be sure to do some research.
Installment Plans for Full-Time and Part-Time Students
Installment plans are available for both full and part-time programs. Here's how that works:
We'll split your tuition into 4 equal payments throughout your class. There are no late fees or other financial payment penalties.
Making those payments on time is a requirement in order to stay in class, and you must pay your tuition in full in order to graduate.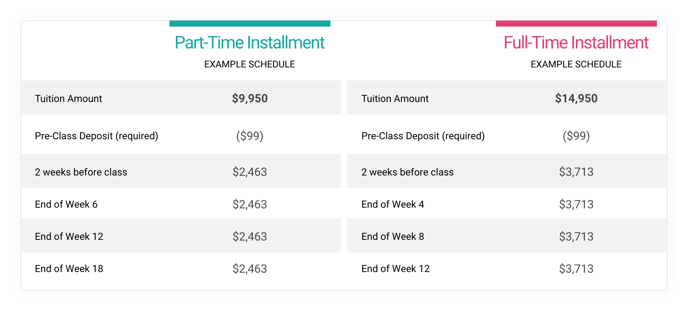 Community and Government Funding
UPDATE Nov 14, 2022: Currently, we are unable to accept WIOA at this time.
Many programs may be available from state and local governments, or groups that you're a part of may also offer scholarships, so be sure to check out your options!

One program we've worked with is the Workforce Innovation & Opportunity Act (WIOA), which offers up to $7,000 in tuition assistance to qualifying students. WIOA is run at the county level, and we are an approved training vendor in most of Atlanta's neighboring counties.

Check with your local WIOA office to see if you might qualify for aid, which can be based on income level, having been recently laid off, or other factors. Students who qualify for WIOA assistance will, in most cases, be required to pay the remaining balance themselves, whether upfront or through one of our lending partners. Our Full-Time and Part-Time Web Development programs are eligible to receive WIOA funding.
Student Aid & 529 Plans
Most coding bootcamps like DigitalCrafts are considered certificate-granting post-secondary programs, so 529 plans or federal student aid are not applicable.
You Don't Have to Decide Your Payment Plan Before Enrolling
If you're unsure which payment option is right for you, that's ok! You can decide after you apply, and you can change your mind until the class begins.
How to Make Payments
Deposits
Enrollment deposits ($99) may be paid via credit card with no additional fee. If you decide not to enroll before your start date, your deposit is refundable in full.
Tuition
You have a couple of options for making tuition payments:
You may pay via ACH bank transfer with no additional fee.
Credit card payments are accepted toward tuition
Pay by check. Make out the check to DigitalCrafts, LLC, and mail it to P.O. Box 681189, Schaumburg, IL 60168. There is a $15 fee for bounced checks.
Questions? Reach Out to Our Team
We know this is a lot of info, and you might have questions specific to your circumstances. Check out our Tuition Page or speak to an advisor to help you decide which path is right for you. Just email us at hello@digitalcrafts.com and we'll get back to you.