With our hybrid approach, students can learn online or on campus with COVID-19 safety measures in place.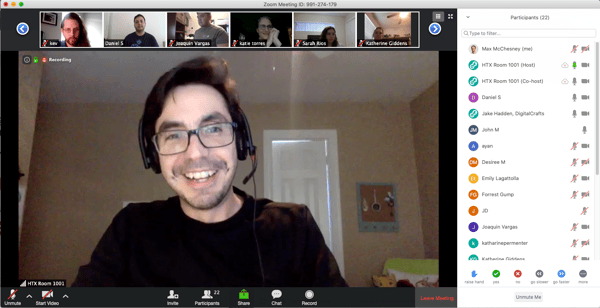 What Is Hybrid Learning?
Like all schools, DigitalCrafts adapted to the COVID-19 pandemic by shifting all of our on-site classes to online instruction in March 2020. However, it can be hard to learn at home: you need a comfortable work space, a reasonable amount of quiet and a solid internet connection.
Not every student has an optimal setup at home, so we've created a "hybrid" learning experience, meaning that students who live close to one of our campuses can choose to learn on-site with safety measures in place.
This approach give students the flexibility of online instruction combined with on-site teaching assistants and a community of peers.
The Hybrid Experience
With our online classes, you'll use tools you're likely familiar with, like Slack and Zoom, to learn and communicate online. Here's what that looks like:
All classes are taught live by an instructor who teaches remotely, delivering classes via online conferencing software.
Our instructors will deliver the same proven curriculum as our on-site classes.
Instruction is backed by our proprietary learning platform, giving students exclusive access to supplemental material like practice exercises, videos and supplemental reading.
Classes are recorded and made available to students for the duration of their bootcamp, so you can review anything you've missed.
Teaching assistants are present on-site as well as being available online.
Build Your Community
No matter whether you're learning on site or from the comfort of your home, you will be able to work collaboratively with other students and build your network.
You'll be able to ask questions in class and schedule office hours with TAs, just we've always done. You will work with other students to build projects, pair program and take part in algorithm practice.
You will also be able to attend our electives that are just for students and alumni. These exclusive talks are given by leaders in the industry. This could be an experienced software engineer giving a deep dive on a technical topic, a hiring manager sharing tips for the job search and getting promoted, or a software engineer from a company like Mailchimp sharing their experiences.
Do Local Students Have to Come to Campus?
In short: Nope! There are no requirements for students to be in person, even if they live near one of our campuses. That said, if you want to come on site, you'll have access to a quiet, socially distanced workspace with an external monitor. You'll also have access to hand sanitizer and cleaning supplies.
Each campus has social distancing measures in place. You'll be required to wear a mask and have your temperature checked.
Learn More About Hybrid Learning With DigitalCrafts

DigitalCrafts Bootcamps Are Now Available Online
What Students Are Building While Learning Remotely
How We're Maintaining Our High Standard of Education During COVID-19